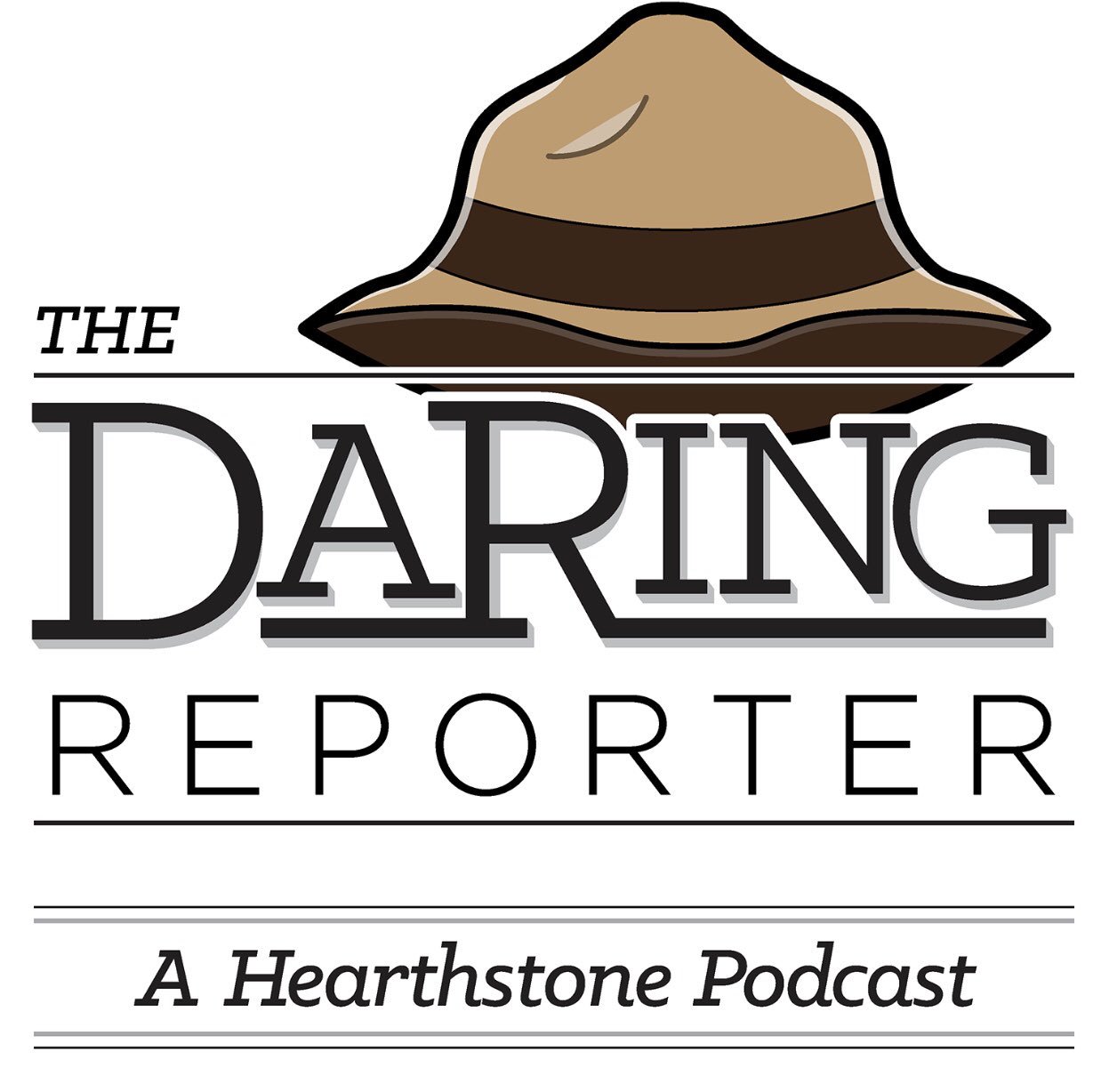 Do you LOVE Hearthstone podcasts? Do you wish you had more to listen to, but don't know where to look? Do you find yourself without the time to keep up with what's being discussed in every cast throughout the week?
Have no fear, The Daring Reporter always gets the scoop! Join hosts Jordan (GreenSpeed) and Kurt (Alkaline) as we discuss all the important topics, cards, decks, and more that are talked about in the Hearthstone podcast universe (so meta, right?).
Episode 23 = 5/18/2018 – 5/24/2018
Nerfs are in full effect, and everyone's scrambling to find the new "best" deck. Jordan's work is in full effect, and so Alex aka Volkai is back to fill in. After the rundown, Kurt and Alex discuss their recent ladder experiences, and we finally hear the recovered interview with Nick Patrick (Redwaller) of the UHL Rundown!
Alex: @Volkai
Nick: @NickPatrickWCHS
Podcasts mentioned in this week's rundown:
///Variety ///
Blizzlet: Hearthstone
UHL Rundown
The Happy Hearthstone
Velen's Chosen
Tier 5
Around the Hearth
1600 Dust
Brewmasters
Hero Power
Last Turn
Omni/Stone
///Competitive & Technical///
Value Town
Coin Concede
Top Deck Kings
Well Met!
///Live Gameplay///
Hearthcoach
Walk to Work
///Wild Exclusive///
Into the Wild
///Arena Exclusive///
The Lightforge
///Casual/New Player focused///
Hearthcasual
Legend of the Innkeeper
///The Temporus Playlist///
The Innkeeper's Podcast
Hearthzone
The Salty Dog
The Clock: Talking About Hearthstone
Off Curve
The Angry Chicken
Music credits:
"Blockade," and "Operation" from The Ace Combat 4 OST
"Stained Glass" and "Forecast" by Darren Korb (Transistor OST)
"Worship the Endless" by FlyByNo (Endless Space 2 OST)
 "God Rays" by Simon Chylinski (Subnautica OST)
Thanks for listening, please contact us with feedback / suggestions!
thedaringreporterpodcast@gmail.com
@TDR_Podcast, @jordan_lingo or @DaringAlkaline on Twitter
GreenSpeed#11616 on Battle.net
Alkaline#1440 on Battle.net
Twitch.tv/daringalkaline on Twitch
The Daring Reporter Discord: https://discord.gg/2wNtE7w